Articles in press
Articles in press are accepted, peer reviewed articles that are not yet assigned to volumes/issues, but are citable using DOI. More info
Will life find a way out? Evolutionary rescue and Darwinian adaptation to climate change
José Alexandre Felizola Diniz-Filho, Luis Mauricio Bini

10.1016/j.pecon.2019.06.001
•

Studies in climate change usually assume that time is too short for evolution.

•

Some models suggest that evolutionary rescue of populations is plausible.

•

Despite the interest, these models are hard to parameterize.

•

Here we review these models and point out the problems and uncertainties.

•

We discuss the way forward to understand adaptive potential to climate changes.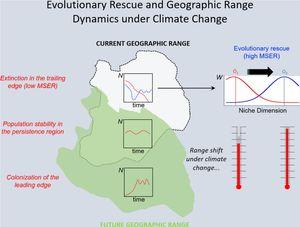 Open access
Available
online 19 June 2019