Articles in press
Articles in press are accepted, peer reviewed articles that are not yet assigned to volumes/issues, but are citable using DOI. More info
Trait shifts in bird communities from primary forest to human settlements in Mexican seasonal forests. Are there ruderal birds?
Leopoldo D. Vázquez-Reyes, Horacio Paz-Hernández, Héctor O. Godínez-Álvarez, María del Coro Arizmendi, Adolfo G. Navarro-Sigüenza

10.1016/j.pecon.2021.11.005
Highlights
•

Anthropization drives directional changes on functional traits of bird communities of Neotropical seasonal forests.

•

Birds within anthropized habitat have short life cycles, rapid development, high fecundity, and broad ecological niches.

•

According to the Ecological Strategies Theory, birds could show the ruderal strategy within the perturbed anthropic habitat.
Open access
Available
online 21 December 2021
Landscape composition regulates the spillover of beneficial insects between forest remnants and adjacent coffee plantations
Hugo Reis Medeiros, Felipe Martello, Jean Paul Metzger, Karen Amanda Harper, Ximo Mengual, Ciro Abbud Righi, Milton Cezar Ribeiro

10.1016/j.pecon.2021.11.003
Highlights
•

9847 wasps classified into 75 species and 23 genera were recorded.

•

Inter-habitat dissimilarity decreased with increasing forest cover in the landscape.

•

Landscape diversity, edge density, and pesticide usage did not affect spillover.

•

Forested landscapes provide more spillover opportunities than do crop landscapes.
Open access
Available
online 19 December 2021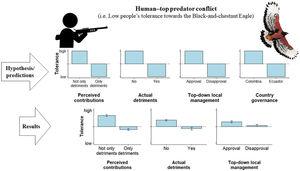 Available
online 11 December 2021