Articles in press
Articles in press are accepted, peer reviewed articles that are not yet assigned to volumes/issues, but are citable using DOI. More info
Habitat modification mediates the strength of trophic cascades on oak trees
Angela A.Q. Chan, Cristina Banks-Leite

10.1016/j.pecon.2020.09.002
•

We investigated the strength of trophic cascades through bird exclusion.

•

Trophic cascades are three times stronger in forest interior than modified habitats.

•

Leaf damage, however, does not change with habitat modification.

•

Functional redundancy of birds may offset loss in their ecological function.
Open access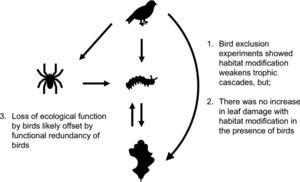 Available
online 29 September 2020
Effects of riparian deforestation on benthic invertebrate community and leaf processing in Atlantic forest streams
Monalisa Silva-Araújo, Eduardo F. Silva-Junior, Vinicius Neres-Lima, Rafael Feijó-Lima, Flavia Tromboni, Christine Lourenço-Amorim, Steven A. Thomas, Timothy P. Moulton, Eugenia Zandonà

10.1016/j.pecon.2020.09.004
•

Riparian deforestation may strongly affect stream functioning, with consequences for biodiversity and ecosystem services.

•

We evaluated the effects of riparian deforestation on 1. measures of community structure using aquatic benthic invertebrates, and 2. an aspect of ecosystem functioning, aquatic leaf processing.

•

Both structural and functional measures changed with riparian deforestation: invertebrate diversity decreased and metrics changed as expected of a negative impact, and leaf processing decreased.

•

Thus both types of bioindicators were useful for monitoring changes and relating them to loss of biodiversity and ecosystem function.
Open access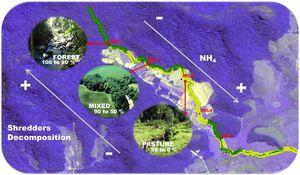 Available
online 27 September 2020
Available
online 27 September 2020