Articles in press
Articles in press are accepted, peer reviewed articles that are not yet assigned to volumes/issues, but are citable using DOI. More info
The Anesthesiologist and COVID-19
Vinícius Caldeira Quintão, Cláudia Marquez Simões, Laís Helena Navarro e Lima, Guilherme Antônio Moreira de Barros, Maria José Carvalho Carmona

10.1016/j.bjane.2020.03.002
Open access
In Press, Journal Pre-proof, available
online
27 March 2020
Climate and land-use change refugia for Brazilian Cerrado birds
Fábio Júlio Alves Borges, Rafael Loyola

10.1016/j.pecon.2020.04.002
•

Climate and land-use changes threatens Brazilian Cerrado birds.

•

Only 13% of the Cerrado could serve as refugia for the bird species.

•

Refugia areas do not coincide with current species-rich areas.

•

∼11% of the refugia areas overlapped with protected areas.

•

Different conservation strategies must be adopted to protect species.
Open access
Available
online 2 June 2020
Population viability analysis as a tool for giant anteater conservation
Arnaud Leonard Jean Desbiez, Alessandra Bertassoni, Kathy Traylor-Holzer

10.1016/j.pecon.2020.04.004
•

We provide a giant anteater (Myrmecophaga tridactyla) baseline population viability model built using multi-data source;

•

A sensitivity analysis was performed to evaluate each parameter impact on the model and to guide future research efforts;

•

Baseline model showed a 5% growth rate, and the most sensitive parameters are mortality rates and the percentage of females breeding;

•

A case study based on real data showed that road kill decreases the stochastic growth rate of local giant anteater populations by half;

•

Our baseline model has the potential to ensure scientific input into conservation planning for the species.
Open access
Available
online 31 May 2020
Using functional diversity and taxonomic diversity to assess effects of afforestation of grassland on bird communities
Lucilene Inês Jacoboski, Sandra Maria Hartz

10.1016/j.pecon.2020.04.001
•

Afforestation of grasslands does not alter taxonomic diversity and functional diversity in a similar manner.

•

The association of some traits with post-cutting stage demonstrates the plasticity of many typical open-area species that return to planted areas shortly after cutting.

•

Afforestation of southern grasslands does not result in reduced functional diversity.

•

The combination of species traits and use of functional space are relatively similar across habitats.
Open access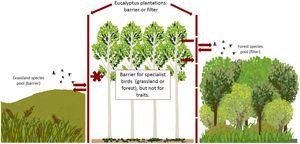 Available
online 27 May 2020
Multiple dimensions of climate change on the distribution of Amazon primates
Lilian Sales, Bruno R. Ribeiro, Colin A. Chapman, Rafael Loyola

10.1016/j.pecon.2020.03.001
•

Climate change will affect species distribution via variation in suitable area amount, displacement of optimal conditions, and/or exposure to non-analog conditions.

•

We found that Amazon primates will face a plethora of effects of climate change on their geographic ranges.

•

Even in cases that the species range could increase, Amazonian primates will be exposed to novel climates and might not be able to track their preferred environments.

•

Remaining populations might also become fragmented and are forecasted to occupy sub-optimal conditions at the periphery of their future ranges.

•

Conservation assessments should consider the multiple dimensions of climate change.
Open access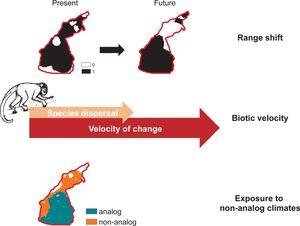 Available
online 1 May 2020
Birds' gap-crossing in open matrices depends on landscape structure, tree size, and predation risk
Cristina Magalhães Silva, Jader Augusto Costa Pereira, Júlia Dell Sol Passos Gusmões, Barbara Emanuelle Penha Mendes, Halissa Valente, Ana Paula Morgan, Dhiéssica Goulart, Érica Hasui

10.1016/j.pecon.2020.02.001
•

Birds use scattered trees mainly as stepping stones and feeding sites.

•

Their use as stepping stones depends on tree size and distance to a forest patch.

•

Bird are able to move greater distances and at higher frequencies across a landscape using stepping stones.

•

Both forest cover and tree aggregation increase tree visits under predation risk.
Open access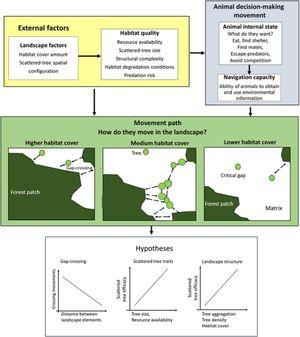 Available
online 22 April 2020
Perspectives in Ecology and Conservation